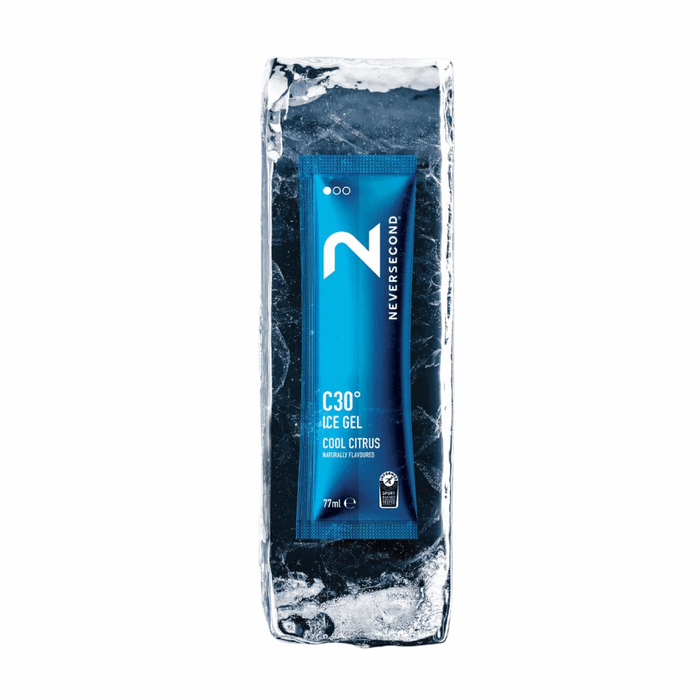 NEVERSECOND C30 Ice gel Cool Citrus Energy Gel (8 sachets)
Sold out
Original price
460 kr
-
Original price
460 kr
Flavour: Cool Citrus
The innovative C30 ice gel from Neversecond supported the Tour de France win in 2022 and helps athletes cool down bodies and minds while providing energy and electrolytes.
Our brains are directly connected to our mouths, and one way to help cool our core temperature is by using an ice gel to cool the mouth.
The ice gel has a gentle taste of citrus and menthol and contains 30g of 2:1 multi-source carbohydrates and 200mg of sodium to help with energy, fluid and body balance.
Please note that the ice gel is not a regular gel and should only be consumed when frozen. It is essential to store it vertically in the freezer and cut a small opening in the packaging before using it on the next hot adventure or indoor session.
Why we love it!
Evidence-based and race-winning in the Tour de France 2022 and Unbound 2023.
30g of 2:1 fast and sustained carbohydrates per gel.
Easy to personalise with the Neversecond fueling strategy
Balanced with energy and electrolytes.
Easy on the stomach with a subtle citrus and menthol flavour.
Refreshingly cold as a frozen gel and with subtle citrus and menthol.
Great for indoor training, fueling at the start of a hot race or where you can get support from a helper.
Anti-doping tested.