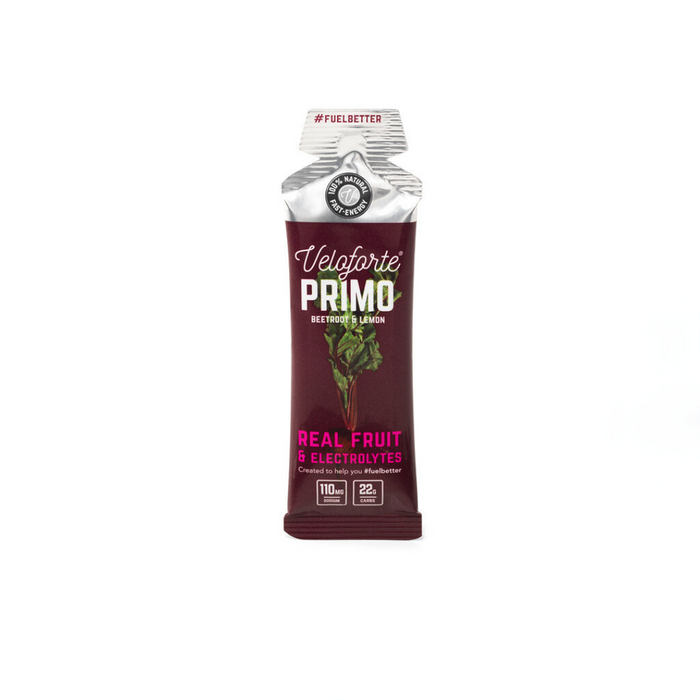 Veloforte Primo Energy Gel
Save

0

%
Save %
Original price
27 kr
-
Original price
27 kr
Flavour: Lemon and Beetroot
Elevate your energy with Veloforte's Primo natural energy gel, a refreshingly savoury and silky-smooth power boost that transcends the ordinary.
Crafted with care and a commitment to nature, Primo is not just an energy source; it's a palate-refreshing energy source for all of your adventures. 
Why we love it!
33g Pocket-Friendly Serve: Experience big energy in a small, convenient package. Our 33g pocket-sized serving ensures you have the power you need, wherever your adventure takes you.

22g Fast Release Energy with Pure Electrolytes and Real Fruit: Unleash a burst of energy with 22g of fast-release goodness, complemented by pure electrolytes and the essence of real fruit for a holistic and effective boost.

Plant-Based Syrup Blend - No Synthetic Sugars: Savor the natural sweetness of our plant-based syrup blend, free from synthetic sugars, providing a clean and delicious energy source.

Savoury Spin to Refresh Your Palate: Primo introduces a savoury twist, refreshing your palate with earthy beetroot and a hint of fresh citrus. It's the perfect antidote to flavour fatigue.

Blended with Care in the UK: Our blend is a testament to quality, meticulously blended in the UK with a focus on nature's finest ingredients.

Gluten-Free, Vegan: Enjoy guilt-free energy! Primo is gluten-free and vegan, catering to a range of dietary preferences without compromising on taste.

No Sulphites, Additives, Preservatives, Artificial Sweeteners, Colourings or Flavourings: Primo is free from any nasties, ensuring your energy source is pure and untainted.

Informed Sport Accredited: Performance trust. Our product is Informed-Sport Accredited, affirming its suitability for athletes.