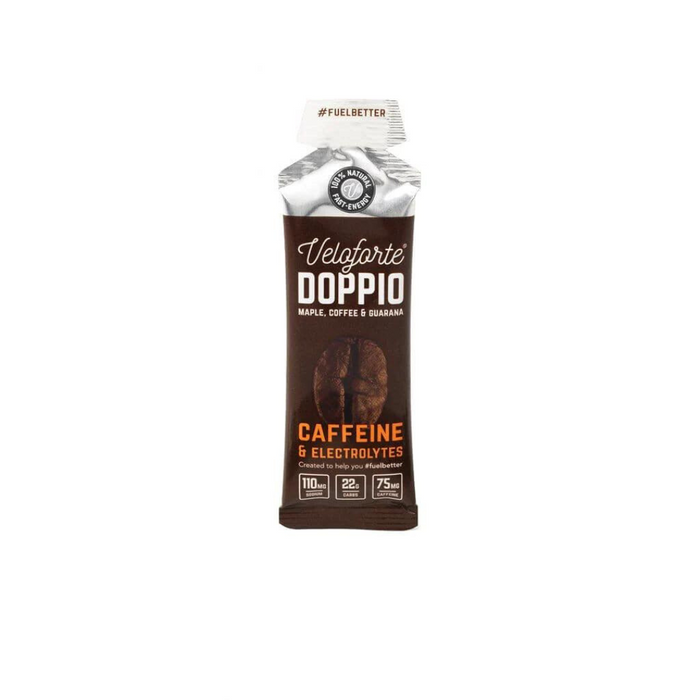 Veloforte Doppio Energy Gel
Save

0

%
Save %
Original price
27 kr
-
Original price
27 kr
Flavour: Maple, Coffee & Guarana (caffeine)
Immerse yourself in the luxurious energy gel experience with a caffeine burst, where taste meets performance.
This mellow and smooth powerhouse energy gel, with a natural guarana caffeine kick, is not just an energy boost; it's a journey into taste and performance. 
Why we love it!
100% Natural Award-Winning Recipe: Velvet Rush is crafted with precision from an award-winning recipe, a testament to its pure and exquisite blend of nature's finest ingredients.

33g Pocket-Friendly Serve: Elevate your energy on the go! With a convenient 33g pocket-sized serving, Velvet Rush is designed to be big on energy while remaining small on size.

22g Fast Release Energy with Pure Electrolytes and Caffeine: Unleash a surge of energy with 22g of fast-release power, enriched with pure electrolytes and a natural caffeine kick, ensuring both vitality and focus.

Plant-Based Syrup Blend - No Synthetic Sugars: Revel in the elegance of a plant-based syrup blend, free from synthetic sugars, providing a clean and sophisticated energy source.

75mg Natural Caffeine: Experience the perfect pick-me-up with 75mg of natural caffeine, carefully sourced to enhance your alertness and energy levels without the crash.

Blended with Care in the UK: Crafted with care in the UK, Velvet Rush embodies the commitment to quality, ensuring every sip is a taste of nature's best.

Gluten-Free, Vegan: Embrace guilt-free indulgence! Velvet Rush is gluten-free and vegan, catering to diverse dietary preferences without compromising on taste.

No Sulphites, Additives, Preservatives, Artificial Sweeteners, Colourings or Flavourings: Free from any nasties! Velvet Rush upholds purity, ensuring your energy boost is untainted and wholesome.

Informed Sport Accredited: Trust in performance excellence. Our product is Informed-Sport Accredited, affirming its suitability for athletes.