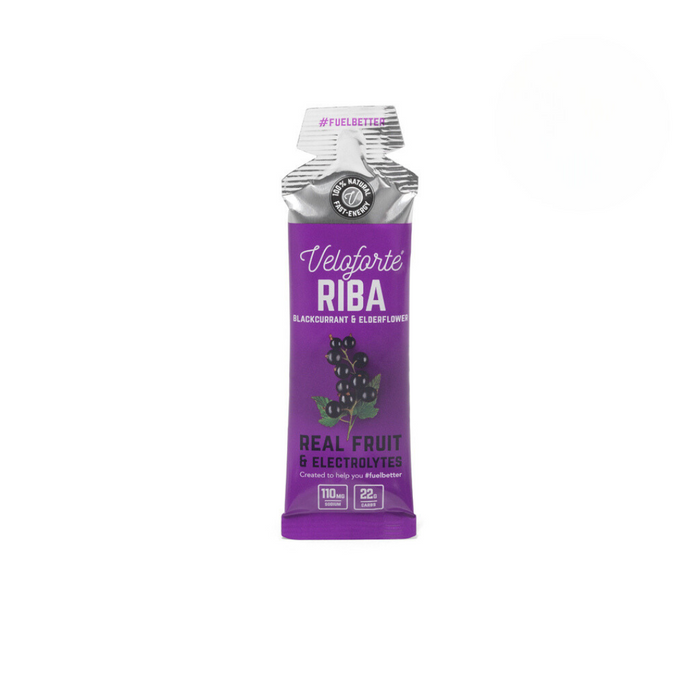 Veloforte Riba Energy Gel
Save

0

%
Save %
Original price
27 kr
-
Original price
27 kr
Flavour: Blackcurrant and elderflower
Indulge in a burst of nature's goodness with our [Product Name], a tantalizing blend of tart and fruity flavours that packs a powerful punch. This all-natural energy boost is not just a gel; it's a delicious journey through the European summer with mild easy-on-the-stomach flavours.
Why we love it!
22g Fast-Release Energy: Experience a quick and sustained energy surge with every 22g serving, providing the fuel your body craves during intense moments.

Real Fruit and Pure Electrolytes: Our blend is a symphony of real fruit goodness and essential electrolytes, ensuring your body stays hydrated and fueled for peak performance.

Pocket-Friendly Pack: Big on energy, small on size! Our conveniently sized pack slips easily into your pocket, making it the perfect companion for your on-the-go adventures.

Refreshingly Fruity Plant-Based Syrup Blend: Immerse yourself in the refreshing taste of a plant-based syrup blend, crafted to invigorate your senses with every squeeze.

Gluten-Free and Vegan: Embrace guilt-free indulgence! Our gel is gluten-free and vegan, catering to a range of dietary preferences without compromising on taste.

100% Natural Ingredients: Say goodbye to artificial additives! Our gel is crafted from 100% natural ingredients, ensuring a clean and pure source of energy without any hidden nasties.

Informed Sport Accredited: Trust in quality and performance. Our product is Informed-Sport Accredited, assuring you of its integrity and suitability for athletes.

30% Less Plastic Packs: We care for the planet as much as your well-being. Our easy-tear packs are now more eco-friendly with 30% less plastic, making it easier than ever to enjoy nature's boost responsibly.