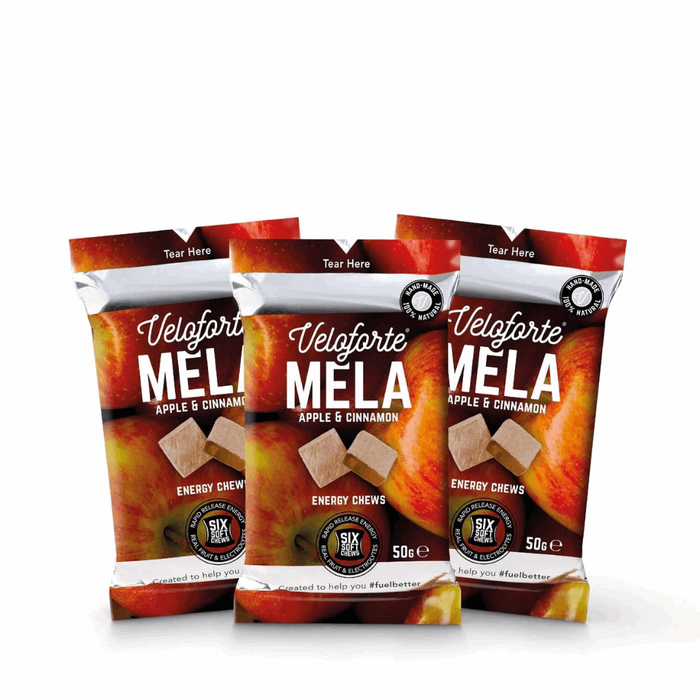 Veloforte Mela Apple and Cinnamon Energy Chew
Save

0

%
Save %
Original price
36 kr
-
Original price
36 kr
Flavour: Apple & Cinnamon
Mela – your secret weapon for light-speed energy fueling that's perfect for fast reps, endurance sessions, or a quick halftime refuel. These deliciously soft, melt-in-the-mouth chews offer a rewarding blend of real apple and cinnamon, infused with the purest electrolytes, providing you with the ultimate fuel for your active lifestyle.
Why we love them
44g Fast-Release Energy: Mela packs a punch with 44g of fast-release energy, ensuring you have the power you need for intense workouts, endurance sessions, or quick energy boosts during halftime.

Powerful and Light, 0% Fat: Experience the perfect balance of power and lightness with Mela. These chews are not only powerful in providing energy but are also incredibly light, with 0% fat, allowing you to fuel your performance without any unnecessary bulk.

100% Natural, Real Fruit Juices: Indulge in the goodness of 100% natural ingredients, with real apple and cinnamon juices creating a flavorful and satisfying energy chew that's as wholesome as it is delicious.

Vegan, Gluten-Free with Anti-Inflammatory Spices: Mela caters to various dietary preferences, being both vegan and gluten-free. Additionally, the inclusion of anti-inflammatory spices enhances the overall health benefits of these energy chews.

Re-balancing Natural Electrolytes: Enhance your hydration with Mela's natural electrolytes, which help re-balance and replenish vital minerals during your most challenging workouts.

6 Melt-in-the-Mouth Chews: Enjoy the convenience of six melt-in-the-mouth chews per pack, making it easy to customize your energy intake based on your specific needs and preferences.

Informed Sport Accredited: Performance trust. Our product is Informed-Sport Accredited, affirming its suitability for athletes.