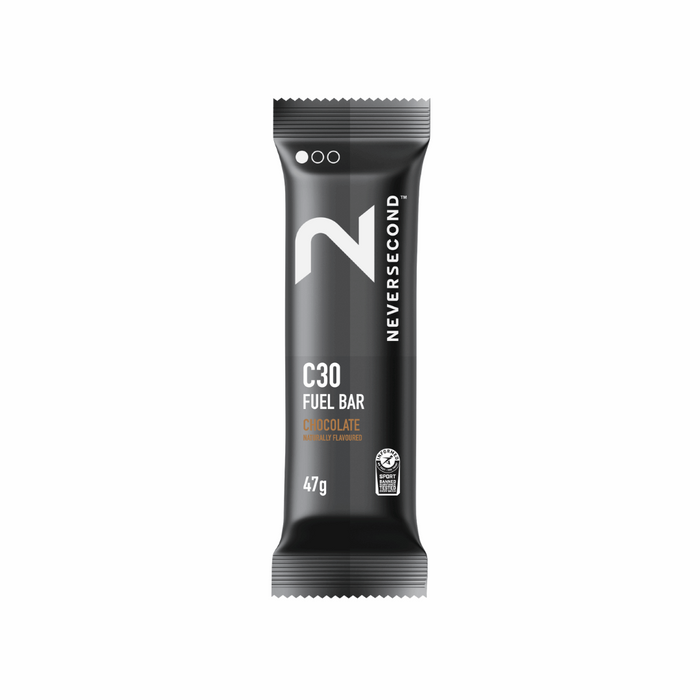 Neversecond C30 Energy Bar: Chocolate
Save

0

%
Save %
Original price
40 kr
-
Original price
40 kr
Flavour: Chocolate
Unlock your peak athletic potential with our C30 Fuel Bar, meticulously crafted for athletes in relentless motion.
Compact in size and high in performance, Neverseconds C30 Fuel Bars are ideal support before or during your training or race and are easily eaten with or without water. 
Engineered for Tour de France elite cycling teams and with a cutting-edge 2:1 glucose-to-fructose carbohydrate blend, these bars are your key to sustaining high-performance levels during intense sessions.
Why we love it!
Tour de France and UMTB Proven:

NEVERSECOND's C30 Citrus Energy Drink Mix has played a vital role in multiple pro tour victories, including the prestigious Tour de France, and gruelling UTMB competitions. It's been proven where it matters most - in the real-world, high-stakes environments of elite cycling, running, and triathlon.



30g of Fast-Absorbing Carbohydrates:

Each bar delivers a potent 30g punch of rapidly absorbed carbohydrates, providing the fuel your body craves for sustained energy throughout your workout.



Gentle on the Stomach:

Experience the power without the discomfort. Our C30 Fuel Bars are designed to be easy on the stomach, minimizing the risk of digestive issues during your training.



Optimal 2:1 Ratio:

With a precise 2:1 maltodextrin-to-fructose ratio, these bars are formulated for maximum effectiveness, ensuring you get the most out of every bite.



Perfect Pre or Mid-Session Fuel:

Compact in size, our C30 Fuel Bars are your ideal companions before or during your workout. The small form factor makes them convenient and efficient, allowing you to stay focused on your performance.



Smooth Texture for Quick Consumption:

No need for prolonged chewing. The smooth texture of our bars ensures quick and easy consumption, so you can refuel without missing a beat.



Low in Fat, Fiber, and Protein:

Designed for rapid absorption, these bars are low in fat, fibre, and protein, streamlining the energy transfer process and minimizing the risk of stomach discomfort.

Certified for Performance: Informed-Sport tested and certified, ensuring each batch is free of banned substances, giving you confidence in your competitive edge.