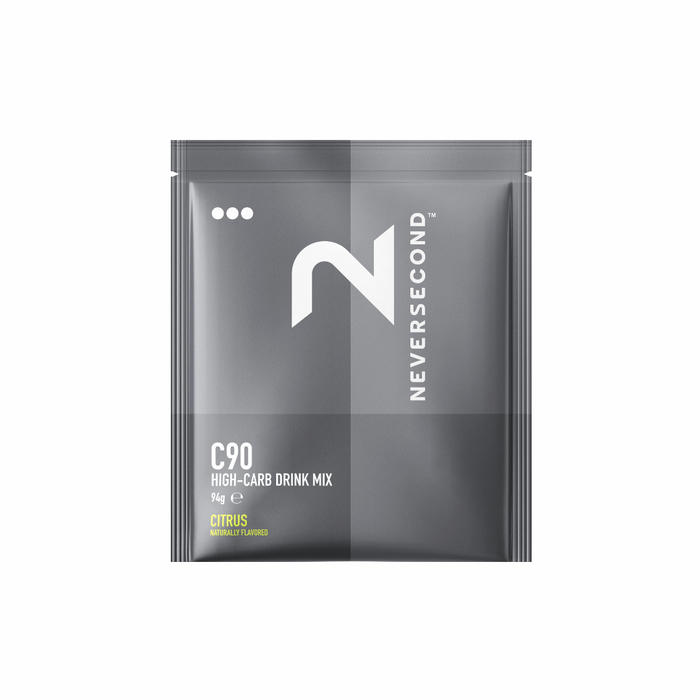 NEVERSECOND C90 Energy Drink Mix
Save

0

%
Save %
Original price
400 kr
-
Original price
400 kr
Flavour: Citrus 
Elevate your endurance game with our C90 High Carb Drink Mix – the ultimate fuel source designed for long-course athletes worldwide.
Unleash the power of 90g of dual-source carbohydrate goodness per serving, all while treating your stomach with the care it deserves.
Say goodbye to energy slumps and hello to sustained performance!
Why we love it!
Unrivalled Energy Boost:

Each serving packs a punch with a generous 90g of carbohydrates, ensuring you stay fueled for those demanding long-distance activities.
Gentle on the Stomach:

Experience peak performance without discomfort. Our formula is crafted to be easy on the stomach, minimizing any gastrointestinal issues during your endurance endeavours.
Optimized Carbohydrate Absorption:

Benefit from the scientifically proven 2:1 maltodextrin-to-fructose ratio, maximizing carbohydrate absorption for sustained energy release.
Premium Ingredients:

We source only the highest quality ingredients to ensure a product that meets the rigorous demands of endurance athletes.
Rigorous Testing:

  C90 High Carb Drink Mix undergoes thorough Anti-doping testing by Informed in Sport.