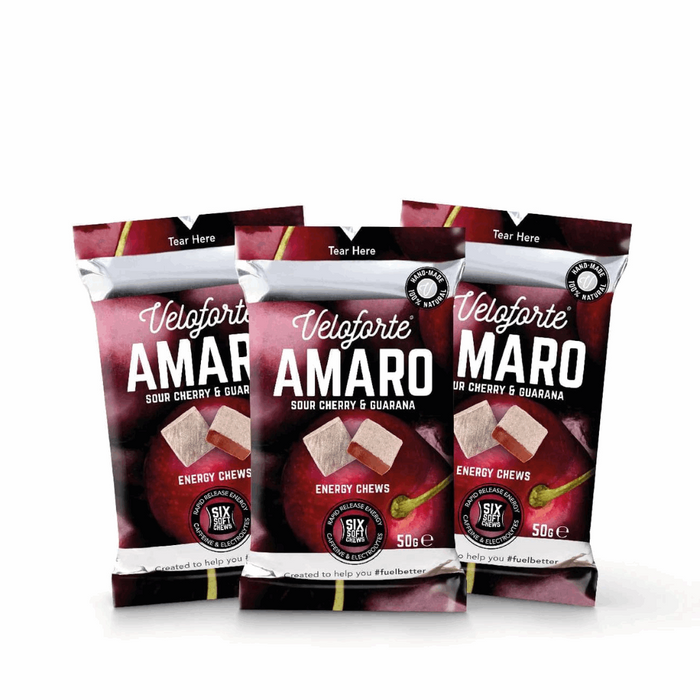 Veloforte Amaro Energy Chew
Save

0

%
Save %
Original price
36 kr
-
Original price
36 kr
Flavour: Sour Cherry and guarana (caffeine)
Why we love it!
Refreshing and Fruity: Amaro is a delightful blend of refreshing fruitiness and sharpness that awakens your taste buds, providing a burst of energy when you need it most.

Natural Caffeine Boost: With 75mg of natural caffeine per pack, Amaro is crafted to give you a clean and effective energy boost to enhance your focus and combat fatigue.

100% Natural Ingredients: We believe in the power of nature, and that's why Amaro is made with 100% natural and handpicked ingredients to ensure a pure and wholesome energy source.

Melt-in-Your-Mouth Chews: Enjoy the convenience of six soft, melt-in-your-mouth chews per pack, making it easy to refuel and recharge on the go.

Real Fruit and Natural Electrolytes: Amaro is enriched with real fruit goodness and natural electrolytes, providing a delicious and effective way to replenish your energy levels.

Handmade in the UK: Crafted with care in the UK, Amaro is made with nature's finest ingredients, ensuring a high-quality and satisfying energy experience.

Gluten-Free, Vegan: Amaro is not only a tasty energy solution but also caters to various dietary preferences, being gluten-free and vegan for inclusivity.

Certified for Performance: Informed-Sport tested and certified, ensuring each batch is free of banned substances, giving you confidence in your competitive edge.

No Nasties: Say goodbye to sulphites, additives, preservatives, artificial sweeteners, colourings, or flavourings – Amaro is free from any nasties, ensuring a pure and guilt-free energy source.